The Expert Guide to ATV and Vehicle Storage
Life's no fun without toys.
No, we're not talking about Legos—we mean high-octane machines that go 'vroooom'. As we mature from infantile ankle biters into adrenaline-seeking adults, our playthings need horsepower to keep us enthused.
Whether you're the proud owner of an ATV, a Harley Davidson motorcycle, or a vintage collectible car, your prized motorized possession is a sure-fire ticket to thrills. But when you're not out there putting the pedal to the metal, you need somewhere safe to stash your pride and joy.
For many of us, home storage just won't cut it. From exposure to the elements to Grand Theft Auto and diminished curb appeal, there's a whole host of reasons to invest in professional storage.
This guide covers the main benefits of indoor storage, the key features to look for, and how to find the right facility for your needs. We'll then throw in a few handy tips on how to prepare your vehicle for storage.
Benefits of Investing in Indoor Storage for Vehicles
Anything other than your everyday ride is a prime candidate for indoor storage. While common examples include the ATV, indoor storage is suitable for a wide array of other vehicle types:
Jet skis and other PWC (Personal Watercraft)
Dune buggies
Motorcycles
Antique cars
Snowmobiles
Keeping these adrenaline-inducing machines inside will protect them from the elements and prying eyes. Moreover, it's convenient and leads to a clutter-free front lawn.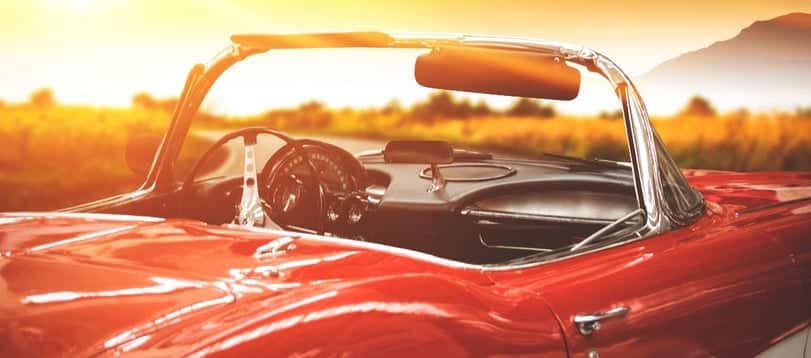 Protect Your Vehicle from Natural Elements
Exposing your prized possession to the wrath of Mother Nature could end in tears. While your toy will fair okay on a clear, balmy day, a sudden hailstorm may result in an instant write-off.
Think that won't happen to you?
Hail causes up to $22 billion of property damage in America annually, much of which stems from dented automobiles. A single 2016 Texas weather event saw grapefruit-sized hailstones (remember when they were only the size of golf balls?), causing $1.4 billion in damages in a matter of minutes. Texas, America's most hail-prone state, made 150,000 hail damage claims in 2016.
But it's not just grapefruit-sized chunks of rock-hard ice you need to worry about. Floods and hurricanes have a knack for wrecking automobiles, just as they do homes. Cast your mind back to the horror season of 2017 when Irma and Harvey damaged over a million cars.
Major weather events aside, everyday exposure leaves your vehicle vulnerable. UV rays wreak havoc on the paint; even intermittent rain will cause massive damage should you spring a leak.
Winter car storage entails other risks, including heavy snowfall and gasket-wrecking temperatures. Worse still, motorcycle winter storage could cause your drivetrain to rust as moisture from snow seeps into the transmission.
Thankfully, the solution is simple. Storing your favorite toy in a sturdy enclosed facility is a surefire way to safeguard it from the elements.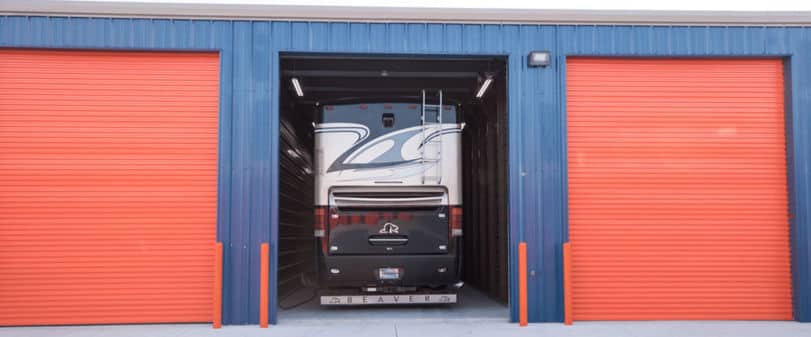 Protect Your RV from Theft
According to the latest FBI statistics, thieves stole 810,400 vehicles in 2020, an 11.8% increase from 2019 and the highest since 2008. Texas is the second-most car theft-stricken state, with over 94,000 reported incidents (Florida comes in third).
On average, an automobile goes missing every 43.8 seconds in America. By the time you finish reading this post, 11 more vehicles will have vanished into thin air.
A National Crime Survey study found that 37% of automobile thefts occur on the street outside the victim's home. Driveway parking provides some extra protection, but the risk remains.
Theft isn't the only criminal threat to your prized automobile or motorized toy. Break-ins frequently occur throughout America, leaving smashed windows and stolen belongings in their wake.
But if you keep your toy in a secure, indoor facility, the likelihood of theft or break-in is virtually zero.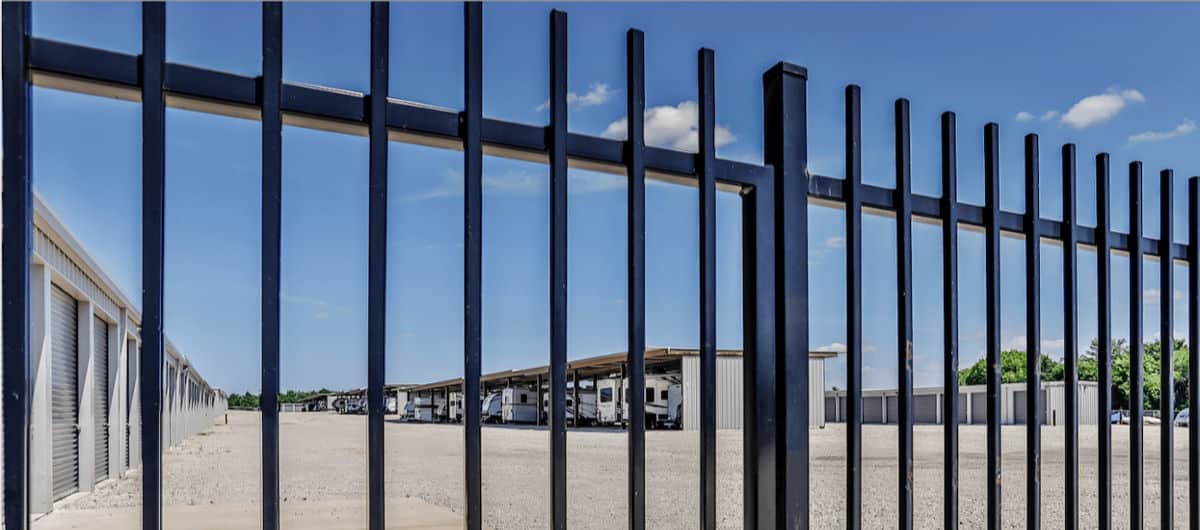 Convenience
While your indoor garage might be large enough to squeeze in an antique convertible, will there be sufficient room to move?
Storing your motorized toy in a tightly-packed garage makes parking your everyday car a chore. Plus, you still need to access your household possessions, and you don't want to play Tetris whenever you fetch something from the garage.
A professional storage facility frees up valuable real estate and gives you much-needed wriggle room.
As for your high-performance jet ski or ATV, you probably can't play with these near your home. The more convenient option is to store them in a facility by your favorite trail park or lake. That way, you get extra garage space and can pick them up en route to an adrenaline-pumping weekend escape.
Maintain Your Curb Appeal
We spend countless hours and vast sums of cash making our front lawns look slick, from landscaping to luxury letterboxes and everything in between. If you go down the driveway storage path, then you'll undo all that hard work by cluttering up your front yard.
But beauty is in the eye of the beholder. Maybe you reckon your prized dune buggy looks fantastic on the front lawn.
Does your spouse agree? And what about the folks next door?
A busy-body neighbor will inevitably report your "unsightly" ride to the HOA. If deemed to breach their notoriously finicky rules, you'll face an eye-watering fine.
Not only do driveway-stored vehicles ruin your curb appeal, but they also leave you vulnerable to the whims of your hateful HOA and block access to your front door or garage. Storing your toy in an external facility will free up your front lawn and retain your precious curb appeal.
Leave the thrill for your next adventure and leave security to us. Safeguard your toy with an affordable, hassle-free Storage Unit from RecNation.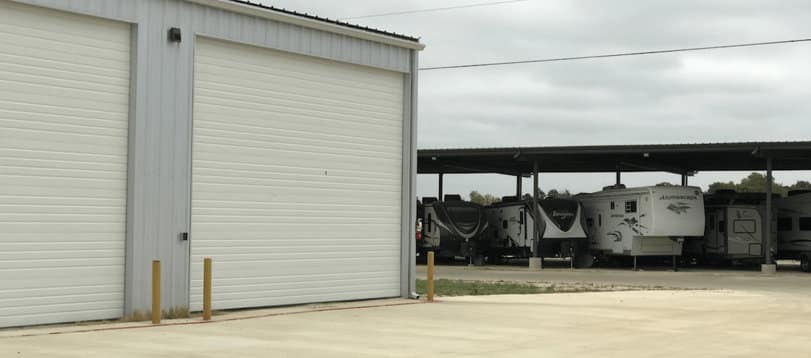 Key Features to Look for in Indoor ATV and Vehicle Storage Facilities
So you've got the memo: indoor storage is the way to go. But what makes an ATV or vehicle storage facility great?
Here are the main features to consider when shopping around.
Security and Surveillance
The whole point of professional storage is to keep your prized possession safe. Therefore, you'd be doing yourself a great disservice by stowing it in an unsecured lot.
Any reputable storage facility will have perimeter fencing. That said, a small, easily-climbable wall won't cut it. Look for a place surrounded by a formidable chain-link fence with barbed wire up top.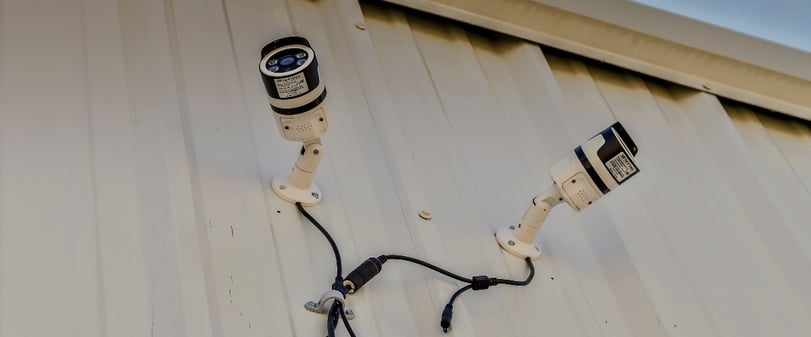 A well-established storage facility will have a high-tech security camera system to monitor the space 24/7. Remember: cameras make the bad guys think twice when casing a joint.
For optimal protection, look for a place with enclosed vehicle storage. These secure, standalone units protect your vehicle from other customers (including accidental dings) and add extra protection should a criminal break in.
Another notable factor is the lighting. A well-lit facility will deter wrong-doers and streamline the parking and retrieval process.
24/7 Access
Your motorized toys aren't much fun if you can't access them as you please. Whether you're returning late from a weekend escape or taking the jet ski for an early-morning whirl, 24-hour access can make all the difference.
High-end storage facilities offer round-the-clock access through a specially-designed mobile app. With this powerful, user-friendly tool, you can retrieve your ride without having to remember a code or bring a key.
Easy Parking
You don't want to pull off a 20-point turn every time you stash your vehicle. Look for a spacious storage unit with sufficient room to glide your ride straight in. Extra wriggle room and adequate lighting will simplify the parking process and reduce the likelihood of accidental dings.
The best storage facilities use swinging doors instead of roll-ups. These highly-functional door types offer extra width within a fully enclosed garage and a more user-friendly experience.
Wondering what size storage unit you need for a car?
A compact, two-door hatchback will usually squeeze into a 10×15-foot space. If you're rolling in something bigger, spring for a 10×20-foot unit instead.
Water On-Site
Keeping your toys in pristine condition is of paramount importance, which means cracking out the suds for a good ol' scrub down.
Your jet skis need regular hosing to get the salt water off, while your ATVs and dirt bikes will inevitably get smothered in mud. A storage facility with on-site water lets you pull off a quick motorcycle wash before putting your prized possession away.
As it's inconvenient to take your vehicle home for a scrub, on-site water is also ideal for an impromptu antique car wash. Plus, as a neat little bonus, you can also refill the water tanks on your camper.
Electricity
Many of us don't get to take our toys for a spin as often as we'd like. If a motor sits idle for too long, its batteries will run flat and become irreversibly damaged. The issue is particularly problematic with winter vehicle storage when freezing temperatures wreak havoc on the cells.
But there's one easy solution: the trickle charger. Simply plug it into your battery terminals and let the device maintain a safe state of charge. However, you'll need a 120V electrical outlet—only premium storage facilities provide these.
If you can't get electrical access, you can learn how to disconnect a car battery for storage (don't worry, it's not that hard).
How to Choose the Best Vehicle/Car Storage Unit to Meet Your Needs
Top-end vehicle storage facilities offer a wide range of state-of-the-art amenities to simplify the parking process and protect your investment.
But how many of those do you actually need?
Forgo a few bells and whistles, and you'll save big bucks on your monthly premiums. Here's how to find the best storage unit for your individual needs.
Identify the Location You Need
Location is everything in the real estate game. Although your ATV doesn't need waterfront views, a strategic location certainly makes life more convenient.
Make a shortlist of your favorite outdoor playgrounds and look for storage facilities in the local area. That way, you can stow your jet ski near a scenic lake or your ATV by an exhilarating off-road trail. A dune buggy is happiest near the beach, while a snowmobile won't scoot far without the soft fluffy stuff (you get the drift).
But if you stash your toy in the city, you'll have to tow it through bumper-to-bumper traffic—there's no better way to ruin a relaxing weekend getaway.
While prestige cars and road-worthy motorbikes are agile enough to zip around town, it's more convenient to store them near your favorite scenic routes.
Make a List of Your Top Priorities
The amount you spend on a storage facility should correlate to the vehicle's monetary (or sentimental) value.
Got a crappy old ATV you happily hurl over death-defying jumps?
There's not much point in paying top dollar for cutting-edge security to keep it safe.
While 24/7 access is convenient, consider whether you play with your toys at odd hours. If you stick to a predictable schedule, there's no harm in skipping this perk.
Parking access depends on the size of the vehicle and your skill behind the wheel. Ensure your fully enclosed garage has enough space to maneuver without scratching the paintwork.
On-site water and electricity make life easy, but you could always stop by a car wash or disconnect your battery for storage instead.
Do Your Research
A dizzying array of vehicle storage facilities operate throughout America, but not all offer high-quality service or good value for money. It's up to you, the consumer, to do the legwork and sort the wheat from the chaff.
Take the following steps to pinpoint the best storage facility for you:
Once you've identified your priorities, search online to find the top storage facilities in your area of choice.
Check what amenities the facilities offer and compare them with your priorities.
Read online reviews and compare feedback scores to create a shortlist of the top three contenders.
Compare monthly premiums to determine who's offering the best deal.
Consider Premium Vehicle Storage
As we know, there's no sense wasting your hard-earned dough on high-end storage to safeguard a low-end machine.
But what if you need to protect a prized vintage car or a priceless intergenerational heirloom?
Stuff the damn thing in Fort Knox.
Unfortunately, the United States Bullion Depository doesn't accept automobiles, so the next best thing is to swing for premium car storage. Google 'enclosed car storage near me' to find the top undercover options and compare their amenities.
Premium vehicle storage is a worthy investment to protect a prestige ride.
How to Prepare Your Vehicle for Storage?
Finding the right storage facility is only part of the puzzle.
Unless you're taking your toys for a spin every other weekend, you should prepare them for long-term storage.
How to prepare an automobile for long-term storage:
Wash and wax the exterior to stop dirt from eroding the paint.
Clean the interior, removing food scraps that could attract rats and inserting mothballs to keep insects away.
Stuff a rag in the exhaust pipe to prevent rodents and condensation.
Pump up the tires to the maximum recommended PSI and place wood planks underneath (or use a jack) to avoid flat spots.
Change your oil and oil filter—old oil slowly becomes acidic and can damage the seals.
Top up your fluids (brake, power steering, coolant) to prevent condensation.
Fill your gas tank to full (also to prevent condensation) and add a fuel stabilizer to avoid evaporation.
Grease the suspension and steering components to prevent seals and rubber bushings from drying.
Disconnect the battery (or use a trickle charger) to prevent it from running flat and damaging the cells.
Disconnect the parking brake, using chocks to support the wheels if required.
Add a breathable car cover to protect it from dust.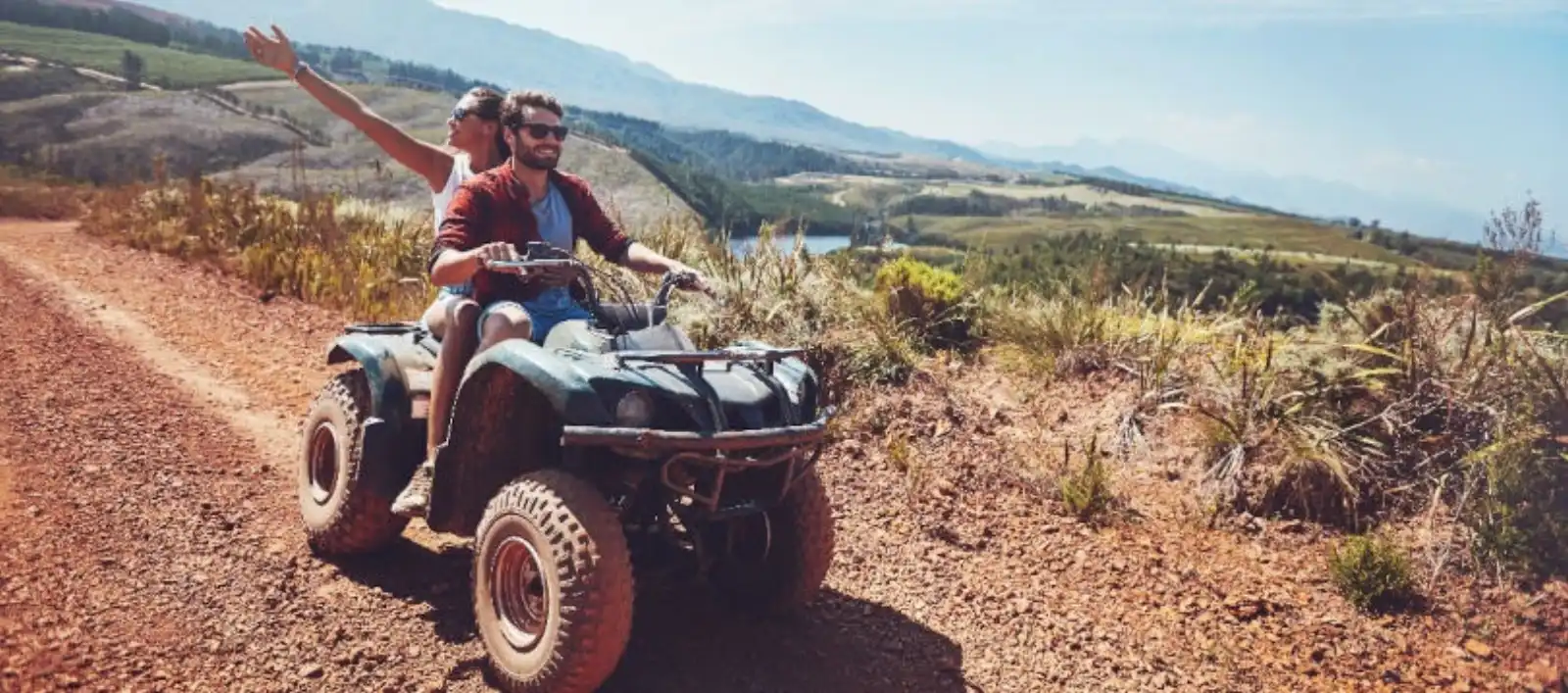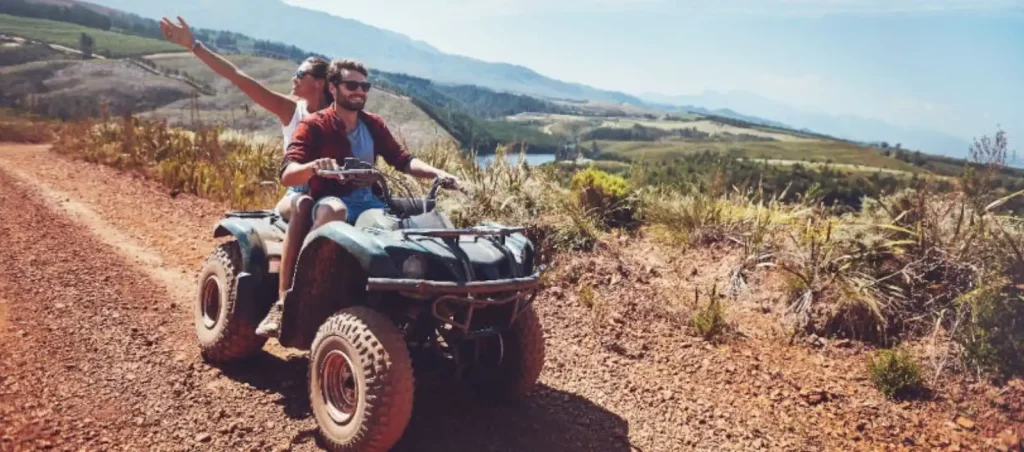 How to Prepare an ATV for Long-Term Storage?
The steps to prep an ATV for storage are similar, though there are some differences to consider:
Clean the exterior and give it time to dry.
Change the oil and oil filter, then run the engine for five minutes to allow it to circulate.
Clean out the air filter and replace it.
If you have a plastic gas tank, drain it and run the motor to consume any leftover gas in the lines. For a metal gas tank, top it up to full and add a fuel stabilizer.
Spray lubricant over any moving parts.
Stuff a rag inside the muffler outlets to prevent condensation and rodent infestation.
Fully charge the battery, then remove it and store it separately.
Pump up the tires to the maximum recommended PSI, then jack the ATV off the ground.
Add a breathable cover to protect the ATV from dust.
Note that an enclosed unit is essential for ATV winter storage.
Rely on RecNation
Even if you can store your toys on the driveway, you'll leave them exposed to the elements, susceptible to theft (plus pesky HOA fines), and ruin your hard-earned curb appeal. At-home garaged storage is a viable alternative, but you'll have to contend with limited space.
By renting a storage unit from RecNation, you can sleep tight knowing your toys are alright.
Contact us today to find an affordable storage solution to suit your needs.
Vehicle Storage FAQs
Can you park a car in a storage unit?
Absolutely. You just need to ensure it has vehicle access and sufficient space. A 5×10-foot unit will do for a compact two-door car. Grab a 10×10-foot unit for larger cars.
Can you store a motorcycle in a storage unit?
There's no reason you shouldn't invest in motorcycle storage, and the same goes for an ATV. Again, ensure there's sufficient space and vehicle access. Many smaller motorbikes will squeeze into a 5×5-foot unit. However, if you've got a big beefy cruiser, you'll need a 10×5-foot space—some are up to 7 feet long.