Getting Your RV Ready for the First Road Trip of the Year
The time to hit the road is here, and everyone is eager to get away on vacation! Whether you're a first-time RV owner or you've been hitting the road for years, everyone could use a few pointers when preparing their RV for the first road trip of the year. Below are several tips and information to help you prepare for your RV takeoff, and if you're new to the RV world, we can help you rent one too.
How To De-winterize Your RV
The long, harsh winter months are over, and it's time to get your RV out of storage to start seeing the world again. ​​Before you think about heading out on the road, you must check your RV's condition and ensure it is safe and ready for travel. The last thing you want to do is end up stranded and have to deal with mechanical or electrical issues instead of enjoying your vacation.
There are two important tasks to accomplish when we de-winterize the RV water system:
Remove the RV antifreeze from the plumbing system.
Sanitize the RV water system so it is safe to use.
If you used nontoxic RV antifreeze to protect the water system from freezing, you should run fresh potable water through the entire plumbing system until all traces of the RV antifreeze are gone. To do this, connect a potable water drinking hose to the city water connector on the RV and run fresh water through the entire plumbing system, including sinks, shower, outside shower, toilet, and washing machine if applicable. Once signs of antifreeze are gone, you can reinstall any water cartridges that were removed for the winter months.
To sanitize the RV water system, be sure all drains are closed and any drain plugs are reinstalled. Take a quarter-cup of household bleach for every 15 gallons of water your fresh water tank holds. Mix the bleach with water into a one-gallon container and pour the solution into the freshwater holding tank.
Fill the fresh water holding tank full of potable water. Turn the water pump on and run water through all hot and cold faucets until you smell the bleach at each tap. Close the faucets and let the solution sit in the freshwater holding tank and water lines for at least 12 hours. Drain all the water and refill the fresh water tank with potable water.
You may need to repeat this process several times to completely remove any sign of bleach. Read more on de-winterizing your RV and ensure you've hit every step on the checklist!
Performing a Mechanical Inspection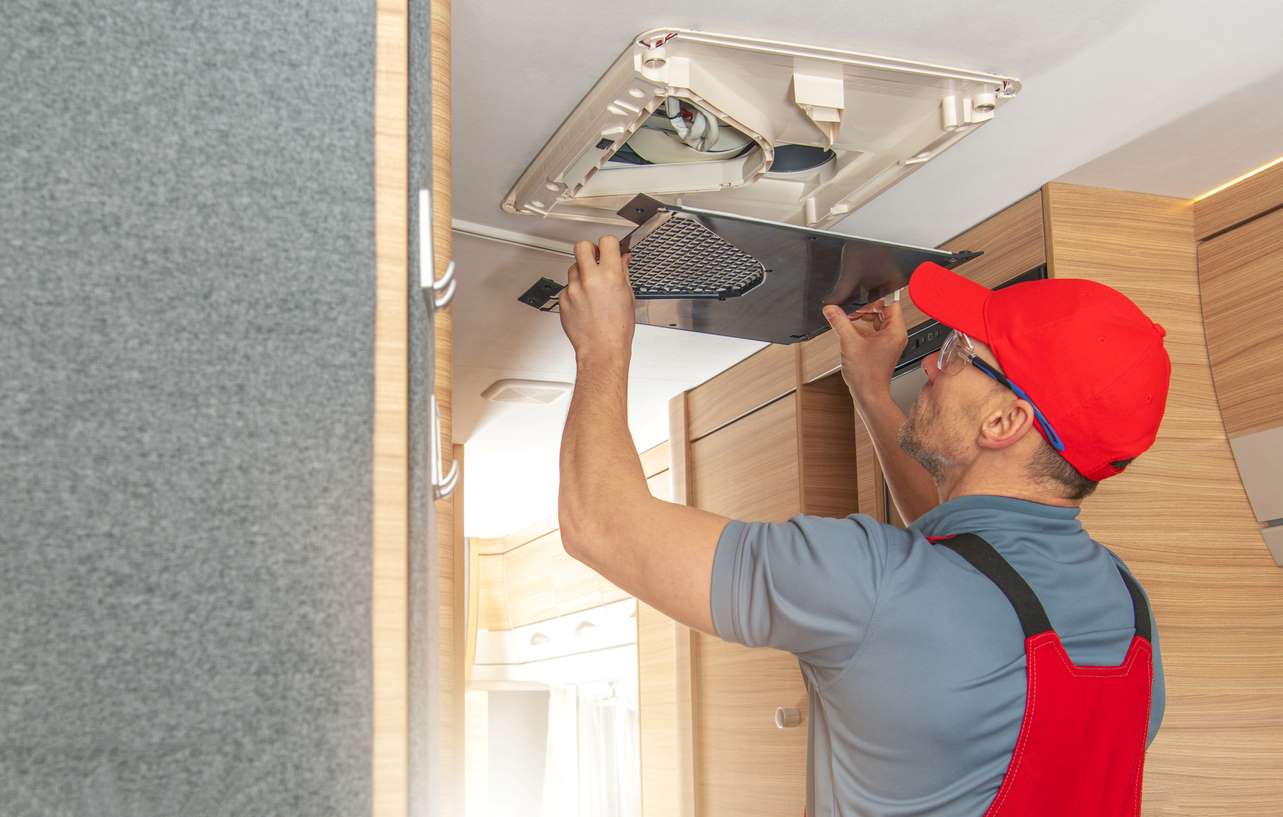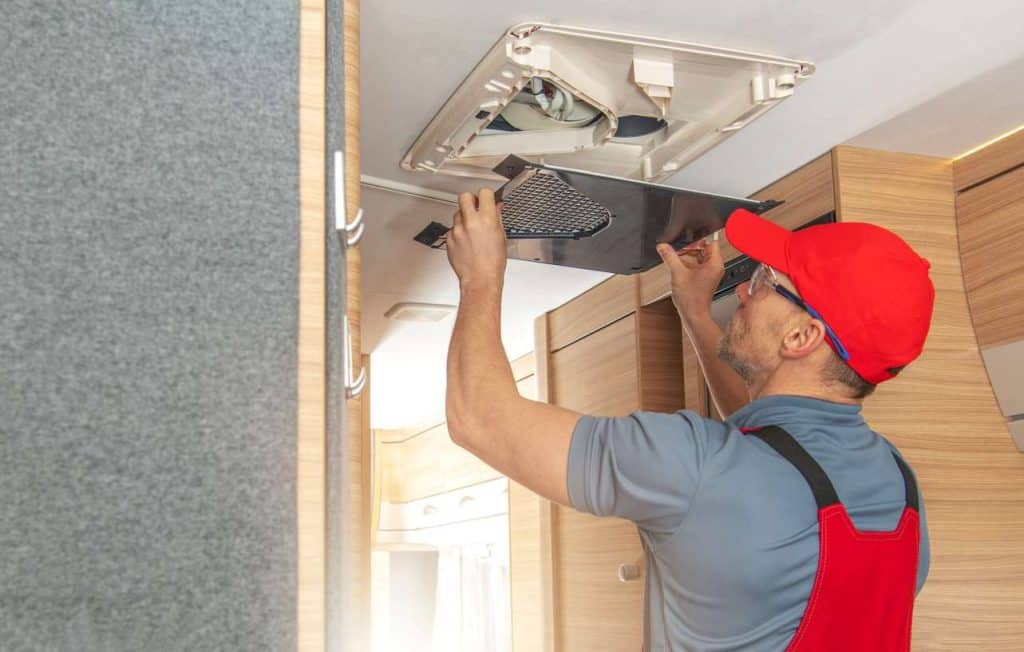 Your RV should undergo a complete mechanical inspection by a mechanic, or do it yourself if you choose to do so. Regardless, you must make sure these key components are checked thoroughly.
Brakes and axles. As needed, adjust your brakes, grease your axles, and check your differential fluid level. If you don't feel comfortable getting underneath your RV for this check, schedule a maintenance service appointment at a nearby mechanic.
Fluids. Fluids are the lifeblood of any motorized vehicle. Inspect the level and condition of these essential automotive fluids by looking at the dipsticks and fluid reservoirs located under the hood—engine oil, radiator coolant/antifreeze, brake fluid, transmission fluid, power steering fluid, and windshield washer fluid.
Filters. The exact location of each filter type differs based on the vehicle's make and model. If the non-reusable filter has served its purpose of filtering contaminants and gunk, simply replace it. When possible, clean reusable filters for maximum usage. Some of these filters include engine air filters, cabin filters, oil filters, and fuel filters.
Lights. Double-check all the lights on your RV are working properly, and have the correct bulbs installed so they're bright enough when you must drive at night.
Horn. As silly as this may seem, your horn is a safety device to alert others of your approach, especially when the other driver seems unaware of your presence. It's important to check it works before hitting the road.
Inspecting and Prepping Your RV's Systems
The internal functions are just as important to check to ensure the safety of passengers when you're traveling. A few things to remember when you're performing your inspection include:
Check the window seals for any chips, cracks, and leaks in the glass.
Check the seals around the doors, storage compartments, and any patio decks.
Check for mold, mildew, and unwanted critters inside the refrigerator, bathrooms, under sinks, inside closets, and the rest of the RV interior.
Check your batteries—coach, chassis, tow vehicle—for corrosion, fluid levels, and recharge (as needed).
Inspect the water heater. Make sure to put the drain plug back in if you removed it.
Test all your electric and propane appliances to ensure they work, including the oven, A/C, refrigerator, vent fans, microwave, lights, furnace, and water pump.
Preventive Measures To Consider
Once you've hit all these steps, you're almost ready to hit the road. It's essential to put some preventive measures in place just in case something goes wrong. Double-checking for any signs of trouble never hurt anyone, and it's better to be safe than sorry.
Double-check your fluid levels are where they should be and reinspect for any sudden leaks.
Double-check your battery is fully charged and will hold that charge.
Reinspect all your fire safety systems such as smoke alarms, carbon monoxide detectors, and fire extinguishers.
Check to confirm you have a first-aid kit and that it's complete.
Gather any important paperwork and tools in case of an emergency.
Book Your Next RV Trip With RecNation
Don't own an RV but want to take your family on an exciting outdoor adventure? Book your next RV rental at RecNation's Dallas, TX, facility! Our experienced team will guarantee you and your family will have the best experience in a clean, comfortable, and safe RV that can fit the whole family. Rent an RV by calling us at (469) 949-6282 or shooting us an email at info@recnationrental.com.
More From RecNation Storage