This location is managed remotely. Please call
(816) 370-2468
for assistance.
Mon

6:00am - 10:00pm

Tue

6:00am - 10:00pm

Wed

6:00am - 10:00pm

Thu

6:00am - 10:00pm

Fri

6:00am - 10:00pm

Sat

6:00am - 10:00pm

Sun

6:00am - 10:00pm
24-hour access provided upon request. Default access hours are 6am-10pm CST
Mon

6:00am - 10:00pm

Tue

6:00am - 10:00pm

Wed

6:00am - 10:00pm

Thu

6:00am - 10:00pm

Fri

6:00am - 10:00pm

Sat

6:00am - 10:00pm

Sun

6:00am - 10:00pm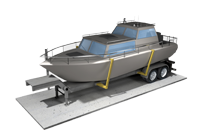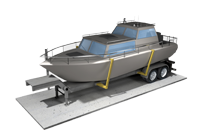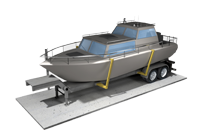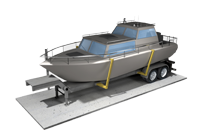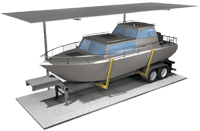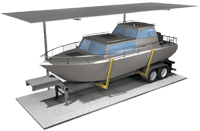 Trimble, MO, Boat and RV Storage at US-169
Living in North Kansas City means you're never far from one of the many outdoor attractions in the area. And whether you're returning from a fishing trip, boating excursion, or journey in your RV, finding storage for your extra vehicles can be a challenge. Thankfully, RecNation offers boat and RV storage in Trimble, MO with options suited for any budget. Our storage facility is located right off Highway 169 and is just minutes away from Smithville Lake. We're situated between the Brite Shine Car Wash and Edgerton-Trimble Fire Department.
RecNation has the answer to all of your self storage needs, including boat storage in Trimble and RV storage in Trimble. We are also a popular choice for people looking to store Jet Skis, kayaks, canoes, hiking equipment, tents, camping gear, and more. Our Trimble storage facility features mini storage units in addition to uncovered and covered boat and RV storage.
Boat and RV Storage Features in Trimble at US-169
Owning any type of recreational vehicle is a major commitment, both time-wise and financially. To get the most out of what you put in, invest in high-quality storage solutions with RecNation. Unlike our competitors, we specialize in vehicle storage in order to provide the best service possible. It seems to have worked, as we've developed a reputation of being Smithville Lake's finest boat and RV storage facility. We're also focused on providing secure storage near Smithville Lake, as our premises are protected by advanced security features like video recording and gated entry.
Other amenities offered at our storage facility in Trimble on Highway 169 include:
24-hour access (upon request)
Drive-up storage units
Fully fenced facility
Constant video recording of premises
Month-to-month storage rentals
Power available in wired units
Military and first responder discount
And more
Jet Ski Storage in Trimble at US-169
Nothing beats heading down to the open water and hitting the waves, especially if you've got a Jet Ski. Zipping around on a Jet Ski provides an unreal thrill that can last for hours and hours. The fun must end eventually, though, and when it does, it's hard to find room in your garage, yard, or driveway for your ride. If you're currently experiencing this struggle, do yourself a favor and rent Smithville Lake Jet Ski storage in Trimble, MO with RecNation. We have self storage units available in many sizes that are perfect for a number of vehicles, including:
Kayaks
Canoes
Paddleboards
Class-A motor homes
And more
Nearby Lakes and Parks in Trimble, MO
Smithville Lake is one of the best places to visit in all of Kansas City. You can find opportunities for fishing, boating, swimming, hiking, and more here and at the many parks that surround the area. To streamline your next trip to Smithville Lake or another destination, rent RV and boat storage in Trimble with RecNation. Our storage facility on US 169 is easily accessible from anywhere in the Kansas City metro and makes getting in and out of town a breeze. Find convenient boat and RV storage in Trimble, MO near these popular Kansas City boat and RV destinations:
Find Boat and RV Storage in Trimble, MO at RecNation
Save yourself the stress of storing multiple vehicles at home and invest in some extra space with RecNation near Kansas City. We offer options for Trimble RV and boat storage near Smithville Lake with both uncovered and covered units available. Looking to know more? Check out our blog and FAQ for more info and give us a call with any additional questions. Once you're ready to get started, rent or reserve your Trimble boat and RV storage unit online or by visiting our facility today!
Frequently Asked Questions About Boat and RV Storage in Trimble, MO
What amenities are available at RecNation RV and Boat Storage at US-169?
We are committed to creating a convenient experience for our customers at every turn. RecNation provides secure storage in Trimble via our 24/7 video recording software, fenced perimeter, and gated entry. We also offer drive-up storage units in Trimble to make moving in and out easy. Non-potable water is available on-site, and electric capabilities are offered in some units.
When can I access my boat or RV storage unit in Trimble, MO?
RecNation proudly offers 24/7 storage in Trimble. Our standard operating hours are 6:00 a.m. to 10:00 p.m., but upon request, you can gain 24/7 storage access whenever you'd like. Whether you're rolling in after dark or before dawn, you'll have no trouble getting into your unit.
How should I prepare my boat or RV to be stored long term in Trimble?
Unfortunately, storing your boat or RV isn't as simple as pulling your ride into your spot. There are a few things to do before storing your boat or RV that will set you up for success and make sure you're protected from potential damage.
Begin by conducting a thorough cleaning of your vehicle's interior and exterior, removing trash, and wiping up any spills or spots. You'll also want to block any exhaust ports or other places where pests could get in, and apply a protective coat of wax if necessary. Think back to any maintenance or repairs you've been putting off and get them taken care of, like oil changes or filter replacements. You should also flush out the coolant system and add a fuel stabilizer to the tank, especially in the winter.
How much does a boat or RV storage unit cost in Trimble, MO?
As part of our devotion to providing top-tier service, RecNation offers affordable boat storage in Trimble and affordable RV storage in Trimble. We have options starting at around $47 per month for smaller units and $112 for larger spaces. Finding affordable storage near Smithville Lake is easy with RecNation.
How can I pay for my Trimble boat or RV storage unit?
To help make your life easier, we offer an easy-to-use online payment portal and mobile app payments for all of our customers. We accept all major credit cards and have autopay options available. Finding self storage in Trimble has never been easier than with RecNation.
Features & Amenities
Every storage feature is designed from scratch against standards forged from years of experience in the self storage industry. The result is a high quality consistent customer experience you can count on.
24 Hour Access Upon Request
All Major Credit Cards Accepted
Facility Amenity: Water Onsite (Non-Potable)
Online & Mobile App Payment
Have a Question?
Yes, in units that are wired.
Our facility is secure with 24/7 security cameras, and we have not experienced theft or break-ins!
No, no one is allowed to reside in our units.
Yes! We offer a military and a first responder discount.
Yes! We have a spigot onsite.
Yes! We recommend Chris Oliver with Oliver Marine, our GO TO vendor!