RV, Motor Home, and Camper Storage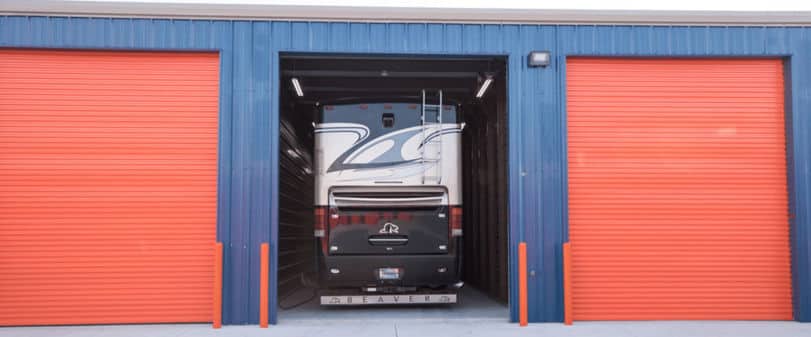 We know you can't wait to hit the road for your next adventure. But until then, you need somewhere to park your RV, motor home, or camper. That's where RecNation comes in. We offer affordable large vehicle storage solutions designed to protect your expensive set of wheels and make your life easier between adventures. Find your nearest RecNation facility to begin the process of answering your vehicle storage needs today!
Benefits of RV, Motor Home, and Camper Storage
You may be able to fit your RV, motor home, or camper in your driveway, but why take up all that space? Choosing RecNation for large vehicle storage is an easy way to free up some space while also protecting your ride. In addition to boosting your home's curb appeal, you can also take advantage of our convenient locations and the other customer amenities we offer to make your storage experience easier from start to finish.
Better Protection
When you're out on the road, the last thing you want to think about is what to do when your adventure is over. But while maintaining your ride on the road is important, you also need to take steps to take care of it at home. Shielding your vehicle from potential rain, hail, or other chaotic weather conditions is critical, as is protecting its paint from the sun's harmful rays. Choosing to keep your vehicle at a RecNation storage facility is an easy and affordable way to add the extra layer of protection needed to give you peace of mind.
In addition to protecting your RV, motor home, or camper from the weather, RecNation also takes steps to increase the overall security of your property. Our facilities are fully fenced-in, with most offering keypad entry and 24/7 video recording. Many of our units are even fully enclosed, with partially covered and uncovered storage plots also often available.
Convenience
You may be in a behemoth 40-footer or a more compact camper van, but either way, RecNation can maximize the convenience of your next trip. It can be tough to navigate narrow roadways in a bigger vehicle, especially when leaving residential areas. Parking your RV, motor home, or camper at a RecNation storage facility cuts down on the tight turns and helps create a much easier and more seamless experience beginning and ending your journeys on the road.
Features and Amenities
We offer several amenities and features to all of our RecNation customers, making us the top destination for people seeking vehicle storage. Our facilities are all surrounded by a fence, and many are protected by keypad entry and 24/7 video recording. We also offer easily accessible units with wide driving aisles and ample turning space, making our facilities an all-around easy place to store your RV, motor home, or camper.
Preparing Your RV, Motor Home, or Camper for Long-Term Storage
It's important to get your RV, motor home, or camper ready for long-term storage before you take it to one of our RecNation facilities. Continue reading to learn some quick and easy ways to get your vehicle prepared.
Cleaning Your RV, Motor Home, or Camper
The easiest way to get your RV prepared for long-term storage is to do something you should be doing any time you wrap up a trip: cleaning it out. Sweep the cabin for trash, and make sure all appliances are turned off. If you have a freezer, defrost it first and make sure to leave the door open to prevent mold. You should also wash and treat the outside of your ride to get it ready for its upcoming slumber. Before you're done, make sure to block any exterior vents or other places pests could get in and cover up your vehicle to protect the paint.
Performing Mechanical Maintenance
It's just as important to take care of the inside of your vehicle as it is the outside. Keeping your RV, motor home, or camper well maintained is a crucial part of preparing it for long-term storage. Some steps you can take to get your ride ready include:
Remove the battery and store it separately
Drain the water system
Add antifreeze if necessary
Check tire pressure
Clean or replace air filters
Lubricate locks, hinges, and other areas
Add fuel stabilizer
Find RV, Motor Home, and Camper Storage at Your Nearby RecNation Today!
With RecNation, it's never been easier to find storage for your RV, motor home, or camper. Our high-quality storage facilities feature several convenient amenities that make us the premier destination for people searching for uncovered, covered, and enclosed vehicle storage. Find the closest RecNation facility to you to take advantage of our convenient RV, motor home, and camper storage today!