Dallas vs. Fort Worth: Which Is Best?
Moving to the Dallas-Fort Worth area could very well be the best decision you've ever made. With Dallas having the largest art district in the United States and the tangible history of cattle ranching in Fort Worth, you won't find anywhere else quite like this metro. From the unbeatable hospitality and character, you'll soon discover why there's so much pride in being a Dallasite or a Fort Worther.
Each neighborhood here is unique. As you try to decide which corner of these two cities is right for you and your family, rest assured that you'll find the one with the help of our guide to moving to Dallas-Fort Worth.
What It's Like To Live in the Dallas-Fort Worth Area
Although the two cities are grouped together, they're more like siblings than twins. Both are built on the same Texas pride and spirit, but whereas Dallas is busier with a more urban feel and an exciting nightlife, Fort Worth embodies that slower small-town experience with a classic Western lifestyle. Both have their own pros and cons, and comparing the two cities side by side is the best way to decide which one will match the life you want.
Comparing Dallas and Fort Worth: Which Is Best for You?
When deciding between the two cities, there are a few factors to consider:
Cost of Living
Fort Worth is more affordable than Dallas. The cost of living in Dallas is approximately 9% higher than the cost of living in Fort Worth when you account for rent expenses.
Both areas are experiencing growth well above the national average for employment opportunities, so while Dallas may be slightly more expensive to live in than Fort Worth, both cities have a high potential for your career.
Population Density
Dallas is consistently more densely populated than Fort Worth, with Dallas sitting at nearly 1.3 million people and Fort Worth hosting approximately 950,000 people.
With so many people, you can expect traffic in either city, but Dallas traffic can be significantly worse during peak hours.
Lifestyle
Living in Dallas, TX, involves a lot of activity. The Big D offers high-end shopping at the NorthPark Center, a remarkable range of restaurants and cafes, and a thriving arts district. There's a virtually endless number of things to do in Dallas, TX, for singles, couples, and families alike.
Fort Worth is a quieter city. History is a main attraction at the Fort Worth Stockyards National Historic District, featuring a twice-daily cattle drive for that true Western experience. With its slower pace, Fort Worth can feel like a small town compared to the bustling Dallas lifestyle, which is what truly sets the two cities apart.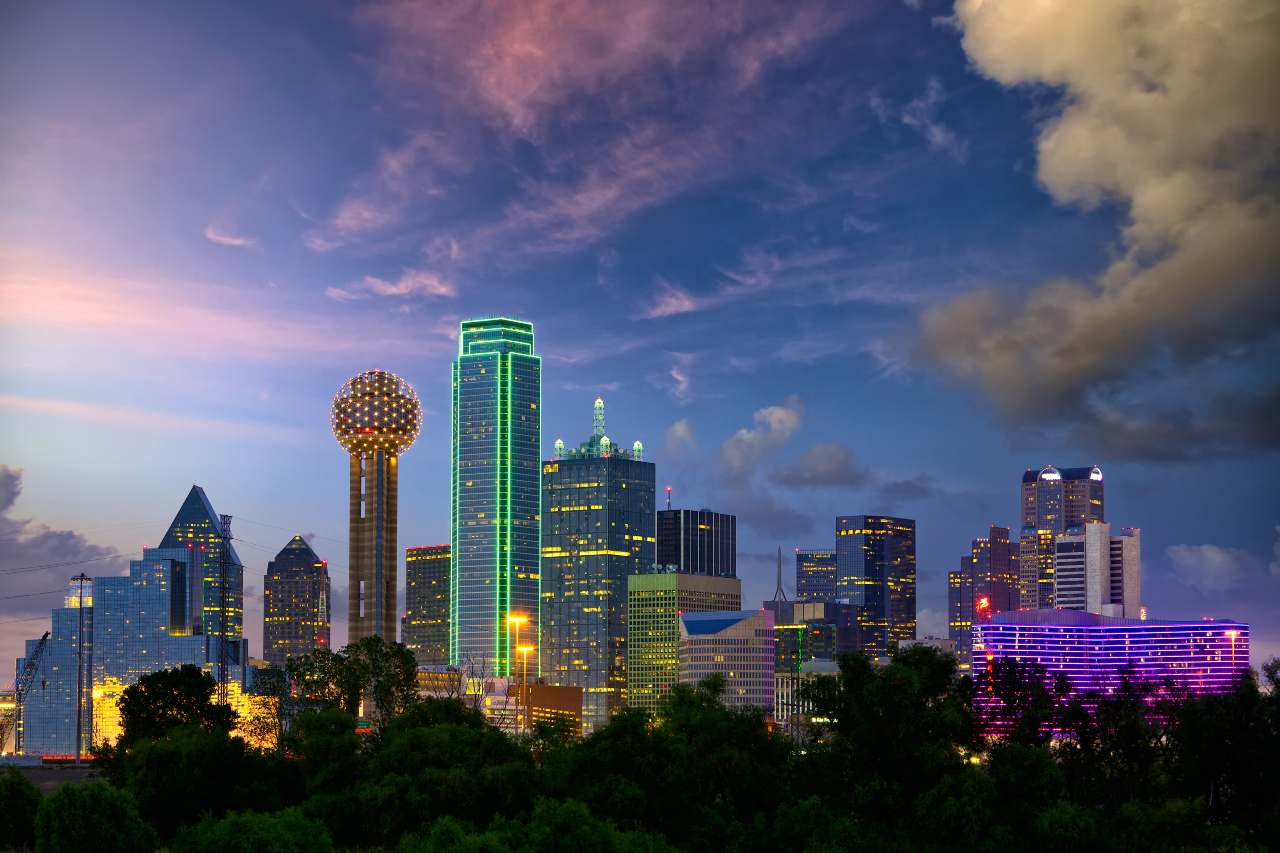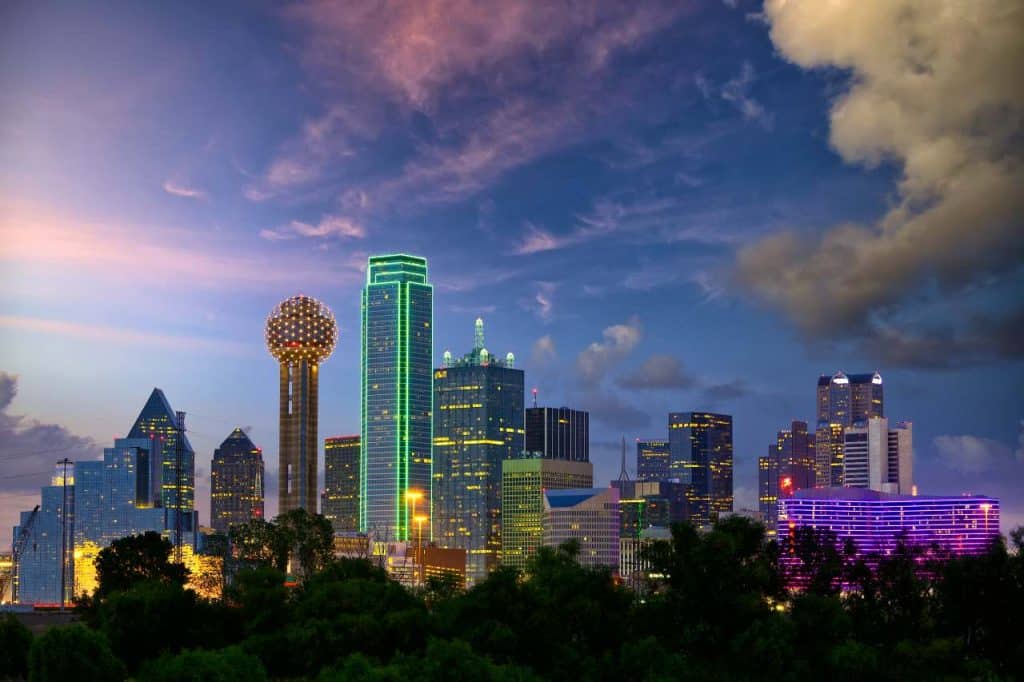 Best Neighborhoods in Dallas, TX
If you've decided that the eclectic, energetic city of Dallas is right for you, it's time to pinpoint what part of it will be yours. We're more than happy to help find the best neighborhood in Dallas, TX.
Lakewood
With one of the top elementary schools in the Dallas Independent School District and the beautiful walkways of White Rock Lake Park, Lakewood is a great neighborhood for young families with a median home value of $436,651. Twenty minutes northeast of the Dallas Downtown Historic District, you can enjoy some peace and quiet here while still being close to the fun.
Uptown
Both lively and charming, Uptown is the place for inner-city apartment living. Here you'll find unique shops, small businesses, bars, and restaurants without having to go far from home. Uptown is separated into several boroughs with several urban apartment complexes to be found in West Village.
Winnetka Heights
Right next to the Bishop Arts District, Winnetka Heights is one of the oldest and largest historic districts in Dallas, TX, and is the place to be if you want to be part of a tight-knit community. Monthly happy hours and other scheduled social events bring together the people of this neighborhood, giving you plenty of opportunities to connect and socialize with new and familiar faces.
Best Neighborhoods in Fort Worth, TX
Favoring the easygoing pace that will come with living in Fort Worth, TX? It's a great place to be, and these are some of the best neighborhoods in Fort Worth, TX.
Arlington Heights
Arlington Heights is one of the safest neighborhoods in Fort Worth, TX, and is only 10 minutes from downtown. It offers a suburban feel without being far from everything Fort Worth has to offer, being next to the Culture District. If you're moving with school-aged children, Arlington Heights High School is highly rated, as are the other public schools in the area.
Downtown
Living in downtown Fort Worth is best for those who still want to experience that active urban lifestyle without the overwhelm that Dallas can sometimes bring. There are plenty of places to live, mostly apartments and lofts, that are perfect for young professionals and couples.
Fairmount
Fairmount is the largest historic district in the entire southwestern United States. Homes here are beautiful and classic, and the area is mostly residential with a great selection of restaurants along West Magnolia Avenue. Families young and old can enjoy their life in the Fairmount-Southside Historic District in Fort Worth, TX.
Consider a Suburb
If neither Dallas nor Fort Worth has you feeling eager to get packed and moving, consider a nearby suburb. Coppell, Irving, Plano, and Garland all offer enjoyable places to live that are still close to the two main cities in the metroplex, making for easy commutes.
RecNation Can Help With Moving to Dallas-Fort Worth
Moving to Dallas or Fort Worth is no small feat. Whether it's just you or your whole family that you're moving to the Dallas-Fort Worth metropolitan area, excellent Dallas moving help can come from a self storage unit and vehicle storage. With self storage, you can have a dependable place to store your things while you transition from one place to another.
At RecNation, our facilities specialize in vehicle storage, which includes storage for your car, boat, or RV. We have several locations throughout Texas, many of which offer car storage, boat storage, and RV storage near Dallas-Fort Worth. Many also offer climate-controlled self storage, including our storage facility near Fort Worth on Highway 377.
Featuring 24-hour access, high-quality storage units, and more, you can find the right space for your belongings and spare vehicles at a RecNation facility near you. That way, you can reduce the stress of your move and focus on settling into your new home. Plus, if your place lacks the room you need for a car, boat, or RV, our vehicle storage facilities can provide you with convenient, reliable, and flexible solutions for short-term and long-term storage. Rent or reserve today!
More From RecNation Storage