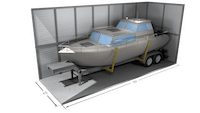 Hurry, only 2 left!
$1: Remainder of the Year
No Obligation
Didn't find your unit? Try these nearby locations
Conroe, TX, Boat and RV Storage at 11332 Darby Loop
If you look in the right places, you can find space for your favorite recreational toys in Conroe, TX. With covered RV storage in Conroe, TX, you can free up some space at RecNation, near Darby Loop and Robinson Road.
Whether you're looking for uncovered or covered boat storage in Conroe, TX, we're here to meet all your needs. Our RV and boat storage in Conroe, TX, is easy to find from Rayford Road, and you'll know you're close when you see Scrap Yard Sports.
Boat and RV Storage Features in Conroe, TX, on Darby Loop
We are confident in the abilities of our Conroe boat and RV storage facility for your storage needs. To save you the trouble of making another stop or trying to do it at home, we've designed it with the amenities you'll need and other tools for ease and convenience.
With RecNation, you can access non-potable water on-site, premium concrete driveways, and power outlets in each unit. In addition, our facility is close to the North Freeway and other major routes through Conroe, so you'll get to your destination fast. Our features include:
24-hour gate access
Extra-large RV units (45+)
Fully fenced facility
Mobile app remote gate access
Month-by-month leases
And more!
Class A Motor Home Storage Near Shenandoah
When you park a Class A motor home in your Shenandoah driveway, it doesn't just stay out of the way. Those things take up space no matter where you put them. It's not just you in Conroe, TX, who doesn't have room outside. You can rent long-term vehicle storage up to 45 feet long in uncovered or covered large storage spaces at RecNation at Darby Loop. Here are some of the other things you can store:
Trailers
Campers
Pontoons
Motor homes
And more!
Nearby Lakes and Parks in Conroe, TX
You can visit several breathtaking sights like Spring Creek Nature Trail within a short distance when you live in Conroe, TX. Some of your favorite destinations could be:
Bear Branch Park (16 mins away)
WG Jones State Forest (17 mins away)
Pundt Park (24 mins away)
Lake Conroe (34 mins away)
Lake Houston (49 mins away)
Find Your Conroe Boat and RV Storage at RecNation
RecNation is the place to store your boat and RV when it's time to put them away. Want to learn more about us? Check out our FAQ page! Visit our facility on Darby Loop to see what we're all about! Start with Conroe indoor boat storage or Conroe indoor RV storage today by calling or renting online.
Frequently Asked Questions About Boat and RV Storage in Conroe, TX
What amenities are available at RecNation in Conroe at 11332 Darby Loop?
You get more than just storage space when renting from RecNation in Conroe, TX. We offer features like automatic online payments and more.
When can I access my boat or RV storage unit in Conroe?
No matter the time of day, your recreational toys are yours to use, even if you've tucked them away from home. At RecNation, we're open 24/7 with special gate codes just for you, so no storage facility schedule can hinder your playtime. Let the fun never be on pause!
How should I prepare my boat or RV to be stored long term in Conroe?
You can extend the life of your car by taking the proper measures before you store it in car storage. Clean your boat or RV thoroughly, dump your tanks, and remove any food or moisture that could grow mold or attract pests. It is best to store your disconnected vehicle's battery in a cool, dry area away from the Texas heat.
Will storing my RV or boat affect my insurance rate?
You might get an insurance discount if you choose an enclosed storage unit. However, we can't guarantee your insurance will be affected.
Features & Amenities
Every storage feature is designed from scratch against standards forged from years of experience in the self storage industry. The result is a high quality consistent customer experience you can count on.
Extra-Large RV Units (45ft+)
Facility Amenity: Water Onsite (Non-Potable)
Facility Attribute: Premium Concrete Drive-Aisles
Mobile App Remote Gate Access
RV/Boat Parking: Enclosed/Indoor
Unit Amenity: Electrical Power Outlet in Unit
What Our Customers Are Saying
RecNation stands out as an excellent storage facility. My vehicle has been securely stored there for a year while I've been working out of state. Accessibility … Read More
RecNation stands out as an excellent storage facility. My vehicle has been securely stored there for a year while I've been working out of state. Accessibility to my vehicle has been hassle-free, and I'm reassured by the safety of the storage. Additionally, the premises are consistently well-maintained and clean.
S M
Karen was my rep. She did a great job – very attentive. I will recommend RecNation to my friends.
Mark Hetherington
Really excited about this newer storage facility. Very clean, good cliental, very secure
t s
Excellent service super clean facility we are so lucky to find this wonderful place
Jebb Trione
Your team made renting a unit easy
Debbie Mitschke
The Staff and Tiffany are amazing they will go above and beyond to help you clean facility no rodents With a complete steel remodel of the units
khalia J